Fed Up With Dead-Slow Internet on iMac, Apple Fan Changes His Middle Name To 'Idiot'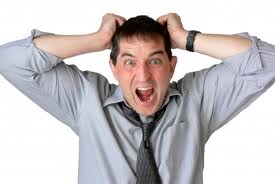 "This is the latest iMac in the market, and I have a 20 Mbps connection and the latest versions of all browsers – and web pages are loading in less than dial-up speeds. I sure must be an idiot – my brother has a decade old windows laptop on the same WiFi and his internet is blazing fast" John P Appleman, who has legally changed his name to John 'Idiot' Appleman, told SVChronicle. "It's not like I did not give myself some benefit of doubt – I have spent two hours with Apple support, two hours with my ISP, and about 24 hours so far on the Internet on this particular issue. I have reinstalled OSX Mavericks some 10 times so far. It is a dead end. Ctrl-T on any browser and type in any url – google.com, for God's sake – and you can take a coffee break and be back, and the page would still be loading" a very frustrated John told our reporter.
"Change DNS. Disable DNS Pre-fetch. Disable all 'predictive' stuff on the browser. Change browsers. Restart the iMac, the router, myself and everything that can be restarted. You name it, I've tried it. It was then that reality hit me – Apple is just telling me that I am basically an idiot – for having paid 'double the money for one-tenth the speed' of a comparable Windows machine in the market. So I did the most logical thing possible – I changed my middle name to reflect the truth. They would not allow me to change it to 'Complete Idiot' so I had to settle with 'Idiot' as my middle name" John told SVChronicle, before leaving his desk to prepare lunch while a new page was loading on his brand new iMac on a 20 Mbps Internet connection, as his brother continue to blaze away in Star Wars on his decade old Windows machine.