One Line Summaries of Startup School Talks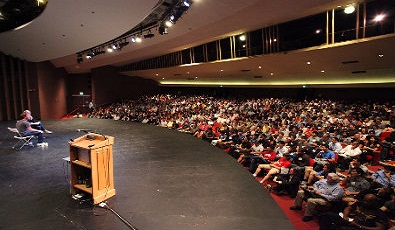 SVChronicle had a front row seat to the talks at Startup School 2013. Here, we try to summarize the talks:
Chris Dixon: I am a VC so I have to give you some formula – it is actually very simple – When you dig for gold, you should know a secret – otherwise everyone digs at the same place and the gold will not be enough for everyone.
Balaji Srinivasan: I am sorry folks I thought this was burning man – but please let us all create a lawless world where we can all do what we want.
Jack Dorsey: I am successful so I can say whatever I want and you will listen – oh btw these days I only talk in terms of 'world' – hold on, here is a song, listen to it.
Paul Graham: Wouldn't it be cool to fund a company on the spot? Wait it would not be cool if I did it for the next two
Mark Zuckerberg: I made a website that got people laid more often so it became popular now my mission is to connect the world also please hire top class computer engineers so they can keep the site up that is the reason we succeeded – and I promise to God I don't know why all of you used your real names on my website.
Diane Greene: OMG I brought a speech thinking I will be talking to some 100 people there are like 1000 of you – Anyways, I founded VMWare – it was fun and I am doing it again – Thanks
Nate Blecharczyk: People think AirBnB has two co-founders – there were three and I was the third one – see I also have photographs to prove that – also whatever I am saying you can go back and check with what Brian and Joe have said in other places – it will match 100 percent – Thanks